120 Baker Street, London,
England, W1U6TU
Request a call
C-MES:Cutting for Laser and CNC
C-MES:Cutting for Laser and CNC is a free program for optimizing the cutting of rectangular and free-form parts from metal, wood-based panels, stone, cardboard, etc. The program can be used to cut sheet materials on laser and water-jet cutting machines, on milling machining centers with CNC and for manual cutting material. C-MES:Cutting for Laser and CNC is an easy-to-use, modern program with a well-designed, simple and convenient user interface. Calculation of cutting can be performed for rectangular parts and blanks, as well as for parts and blanks with an arbitrary configuration. Despite its simplicity, with its use it is possible to achieve a significant reduction in waste materials. More information about working with the program can be found on the link.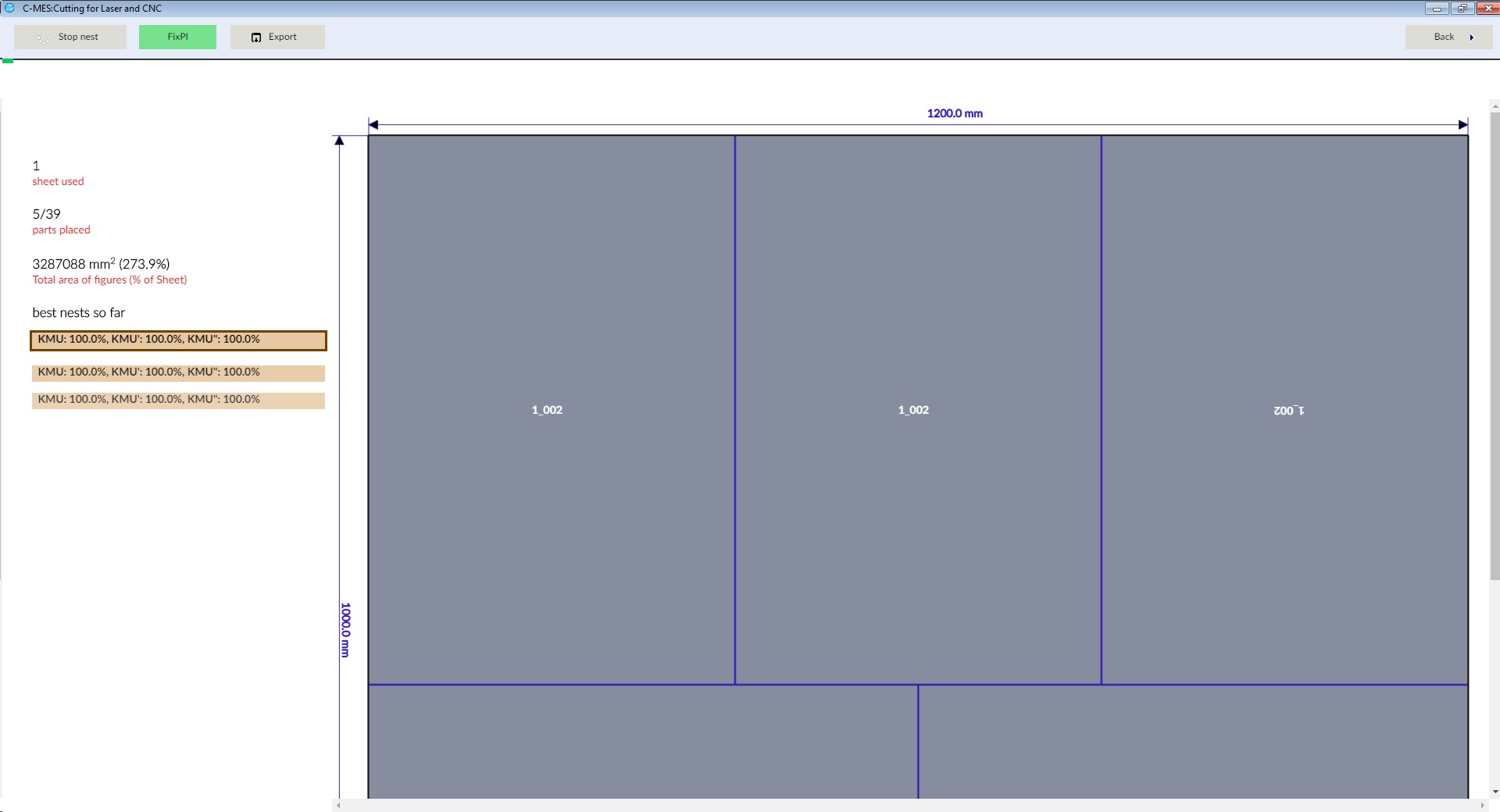 Flexible setting of cutting parameters
Flexible parameter settings allows you to take into account the technological properties of your equipment. You can customize the output from the C-MES:Cutting for Laser and CNC to any laser, gas or plasma cutting machine, to a CNC milling machine. The cutting can also be optimized for slitting machines (for example, circular saws)
CAD / CAM integration
Importing parts is done from SVG or DXF files. For imported parts, the properties are indicated: size, quantity and name of the material, order or drawing number. All properties of parts can be changed after import. In one calculation of cutting, you can use a different number of blanks with different sizes and configuration. Rectangular parts and blanks can also be added manually directly during the cutting process.
Exporting results is performed in SVG, DXF, SWF and PDF formats. The result of cutting can be loaded into the program for further optimization (for example, to add new parts to the cutting).
Cutting optimization
The program is based on a fast genetic self-learning algorithm for cutting rectangular and curvilinear parts. Automatic cutting ensures high material utilization. If required, the layouts can later be edited manually. To this end, the program offers the possibility of exporting the cutting result to the most used formats. The calculation of cuttings can be stopped at any time, and the number of parts for subsequent calculations is automatically reduced by the number of parts already placed.
Limitations of the demo version of the program
The demo version of the program is limited by the number of import and export formats (only SVG and DXF formats is used).
To download the demo version of the program, you must register on our website.
If the registration confirmation letter is not received (if the provider has a spam filter), write to our administrator at admin@c-mes.co.uk. Your account will be activated.


Registration
Fields marked with * are required.